Careers and
Placements
The University gives utmost importance to assist students in getting suitable placements after successful completion of the program. Alumni of the University have been working in senior roles in reputed multinational companies, Indian corporates, banks, public sector units, government organizations etc. Some alumni have become successful entrepreneurs.

Training and Placement
The training and placement wing at the University looks after the training and placement activities on a continuing basis. Staffed by senior professionals and placement executives, the team initiates and maintains the University-Industry dialogue and manages the summer internship program and final placement activities. The team evaluates student performance levels and ensures relevant preparation for their corporate placements. Working both at the supply and demand sides of the placement, the team plays the vital intermediary role of matching academic excellence and industry expectations and counseling the students appropriately.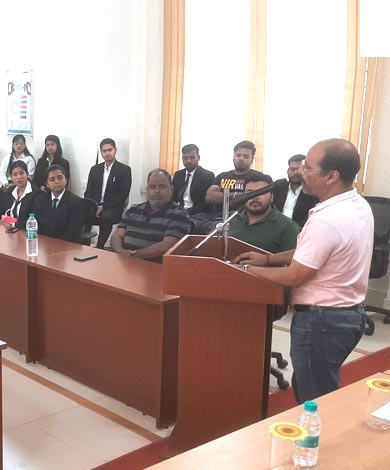 Career Opportunities
MBA graduates will have opportunities to work in public and private sector firms involved in both manufacturing and service functions or can become an entrepreneur. The following organizations provide career opportunities for the fresh graduates.
Finance: National and Multi- National Banks; Credit Rating Agencies; Insurance Companies; Trading and Broking Firms and Other Financial Service Firms etc.
Marketing: Sales and Marketing departments in both national and multi-national firms; Advertisement Agencies; Event Management Companies etc.
Human Resource Management: HR departments in National and Multi-National Companies; Recruitment & Training Agencies; Counseling and Career Development firms etc.
Operations Management: Production, Distribution and Logistics departments in both manufacturing and service organizations.
A Joint Effort
The University believes that the entire placement exercise is a joint effort between the University and the students. While the University provides guidance, support and network with potential employers, the students have the responsibility to put in the maximum possible efforts to obtain suitable placements.

Placements depend upon not only the performance of student at degree level but also on previous academic record.
Star Placements
---
Placement Notifications 2023
| Reference No. | Name of the Company | Role | Last date to apply | Link to the Notification |
| --- | --- | --- | --- | --- |
| IUJ/P22/SS/CR-0038 | Bajaj Finance Ltd | Assistant Manager | 21-03-2023 | |
| IUJ/P22/SS/CR-0037 | FAditya Birla Capital Limited | Management / Sales Trainee | 18-03-2023 | |
| Reference No. | Name of the Company | Role | Last date to apply | Link to the Notification |
| --- | --- | --- | --- | --- |
| IUJ/P22/SS/CR-0036 | Fullerton India Pvt. Ltd | Relationship Manager, Urban Sales | 21-02-2023 | |
| IUJ/P22/SS/CR-0035 | GROWUPP | Business Development Associate (BDA) | 21-02-2023 | |
| IUJ/P22/SS/CR-0034 | HDFC Bank Limited | Relationship Manager – Retail Agriculture | 15-02-2023 | |
| IUJ/P22/SS/CR-0033 | Extramarks Education India Pvt. Ltd. | Business Development Executive | 14-02-2023 | |
| IUJ/P22/SS/CR-0032 | Reliance Retail Limited (Digital) | DMIT | 11-02-2023 | |
| IUJ/P22/SS/CR-0031 | Thomas Cook India Limited | Executive | 09-02-2023 | |
| IUJ/P22/SS/CR-0030 | HCL Technologies | Technical Analyst/p> | 02-02-2023 | |
| IUJ/P22/SS/CR-0028 | Digital General Insurance | Executive Trainee | 02-02-2023 | |
| IUJ/P22/SS/CR-0027 | Cryto Tech Solutions | Software Developer Intern/ Associate Software Developer | 02-02-2023 | |
| IUJ/P22/SS/CR-0026 | Dainik Jagran -Jagran Prakashan Ltd (JPL) | Management Trainee | 02-02-2023 | |
| IUJ/P22/SS/CR-0025 | Reliance Retail Limited | Asst. Store Manager | 30-01-2023 | |
| IUJ/P22/SS/CR-0024 | Kotak Life | Management Trainee | 19-01-2023 | |
| IUJ/P22/SS/CR-0023 | IndiaMART | Executive - Client Servicing (CSD) | 12-01-2023 | |
| IUJ/P22/SS/CR-0021 | Max Fashions | Management / Graduate Trainee | 22-12-2022 | |
| IUJ/P22/SS/CR-0020 | DIGIT General Insurance | Executive Trainee | 16-12-2022 | |
| IUJ/P22/SS/CR-0019 | Intellipaaat | Business Development Trainee | 15-12-2022 | |
| IUJ/P22/SS/CR-0018 | Aditya Birla Fashion and Retail Limited (Pantaloons) | Store People Officer, Warehouse Executive , Department Manager | 12-11-2022 | |
| IUJ/P22/SS/CR-00017 | Agarwal Packers and Movers Ltd. | BDO | 08-12-2022 | |
| IUJ/P22/SS/CR-00016 | Bandhan Bank | Customer Relationship Officer | 15-11-2022 | |
| IUJ/P23/SS/ CR-P/00015 | Sahydri Industries Ltd. | Executive Assistant | 25-11-2022 | |
| IUJ/P23/SS/ CR-P/00014 | Rubrik India Private Limited | Software Engineering Manager (SEM) | 24-11-2022 | |
| IUJ/P23/SS/ CR-P/00013 | Databricks | Intern Trainee Engineer | 22-11-2022 | |
| IUJ/P23/SS/ CR-P/00012 | TopGeek Lab | Software Engineer | 19-11-2022 | |
| IUJ/P23/SS/ CR-P/00011 | Drone Power Private Limited | GET | 15-10-2022 | |
| IUJ/P23/SS/ CR-P/00010 | RSIPL & SRPSPL | Trainee | 18-11-2022 | |
| IUJ/P23/SS/ CR-P/00009 | SMC Global Securities Ltd. | Relationship Manager | 15/10/2022 | |
| IUJ/P23/SS/ CR-P/00008 | FedEx India | Data/Marketing Analysts | 16/10/2022 | |
| IUJ/P23/SS/ CR-P/00007 | Solar Square Energy | Solar Consultants | 14/10/2022 | |
| IUJ/P23/SS/ CR-P/00006 | Raise Digital | Business Development Associate (BDA) | 13/10/2022 | |
| IUJ/P23/SS/ CR-P/00005 | Planet Spark | Business Development Trainee (BDT) | 10/10/2022 | |
| IUJ/P22/SS/CR-0004 | ESAF small Finance Bank | Executive Trainee | 12/10/2022 | |
| IUJ/P23/SS/ CR-P/00003 | Finzly (formerly SwapsTech) | Trainee | 11/10/2022 | |
| IUJ/P23/SS/Int/00002 | Wipro | Lite | 11/10/2022 | |
| IUJ/P23/SS/Int/00001 | Berger Paints India Limited | Senior Sales Officer Trainee (SSOT) | 12/10/2022 | |
---
Year wise Campus Placements
Campus Placements of the Students that Graduated in